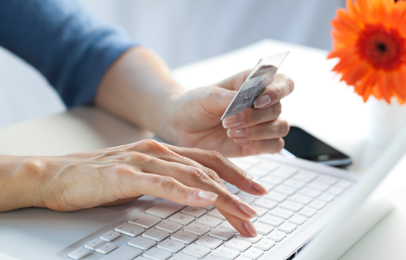 Credit Card Processing via Internet
The fastest growing segment of credit card use today is in "card not present" transactions in which a customer makes his purchase by mail order telephone order (MOTO), by facsimile or via the Internet instead of being physically present at the merchant's location.
If you want to process credit cards for Internet, telephone or mail order transactions, you'll need a special merchant account specifically designed for that purpose. Because you never take physical possession of a credit card so that you can swipe it through a magnetic strip reader, both Visa and MasterCard use different criteria for evaluating risk and have different fee structures for card not present transactions.
ECI can help you easily establish such a merchant account and the entire process will take just minutes of your time and you will be up and running in a matter of days.
Internet Payment Gateway
ECI is an industry leader in credit card and electronic check processing for Internet businesses. Whether you are just starting your e-business or have an existing website that needs payment processing, ECI has the products and expertise to ensure your e-business success.
We have devoted our energy and resources to making Web transactions reliable, secure and scalable for thousands of merchants. We can do it for your business!
We are a full service payment gateway with all of the features and services you need to process E-Commerce transactions.
E-Commerce Software
E-Commerce Gateways provide full credit card processing functionality with features such as online customer credit card authorizations, batched transactions, fraud detection and prevention, and full transaction reports.
E-Commerce Gateways can be integrated into virtually any Internet store front using an HTML query string or a simple form submit.
Gateway Software Features
ACH Terminal
The ACH Terminal allows you to process ACH (Automated Clearing House) transactions. Sales orders collected from a website through secure email can also be processed manually with the ACH Terminal.
Recurring Billing
Our recurring billing features offers a robust, yet easy to use recurring billing system that can be configured to suit your business. The Transaction Manager Recurring Billing technology helps capture and protect up to 10% more of your subscriptions annually.
Membership dues and subscription fees are example of products and services that are typically billed on a recurring basis. It is the perfect solution that allows you to setup regularly scheduled payments such as dues for membership services or installment payments. Recurring billing offers you improved profitability, security as well as better control and predictability over your cash flow.
Comprehensive Online Reporting
The Reports Tool allows you to view all credit card settlement reports (Sales, Pre-Auths, Credit, etc) by date, by credit card number, by order number or by Customer ID. Yuo can also see when a batch was run, how much that batch totaled and which transaction were in that batch. In the credit card transaction report, you can review Address Verification System (AVS) results or learn the reason why a specific transaction was declined. ACH Transaction Reports tell you information about any check based transactions you have run over a given date range. The Export Orders utility allows you to export sales data using several popular file formats.
Fraud Protection
Developing and maintaining a current negative database of payment types and customers that have caused you problems or have committed fraud is useful in helping your business reduce costs and maintain profits. The Transaction Manager Fraud Protection system allows you to lock out, or unlock certain credit cards, individuals, and/or countries that you choose not to support. This feature enables you to monitor your system for fraudulent transactions and set specific parameters for which types of transactions you will not accept.